Are you gluten free and think you can't have a crunchy oven cooked chicken breast because you can't use bread crumbs?  Allergic to eggs and think that same chicken breast is off limits because eggs are what are usually used to make crumbs stick to chicken?
Well, think again.  You can have your crunchy oven cooked chicken breast without gluten and without egg!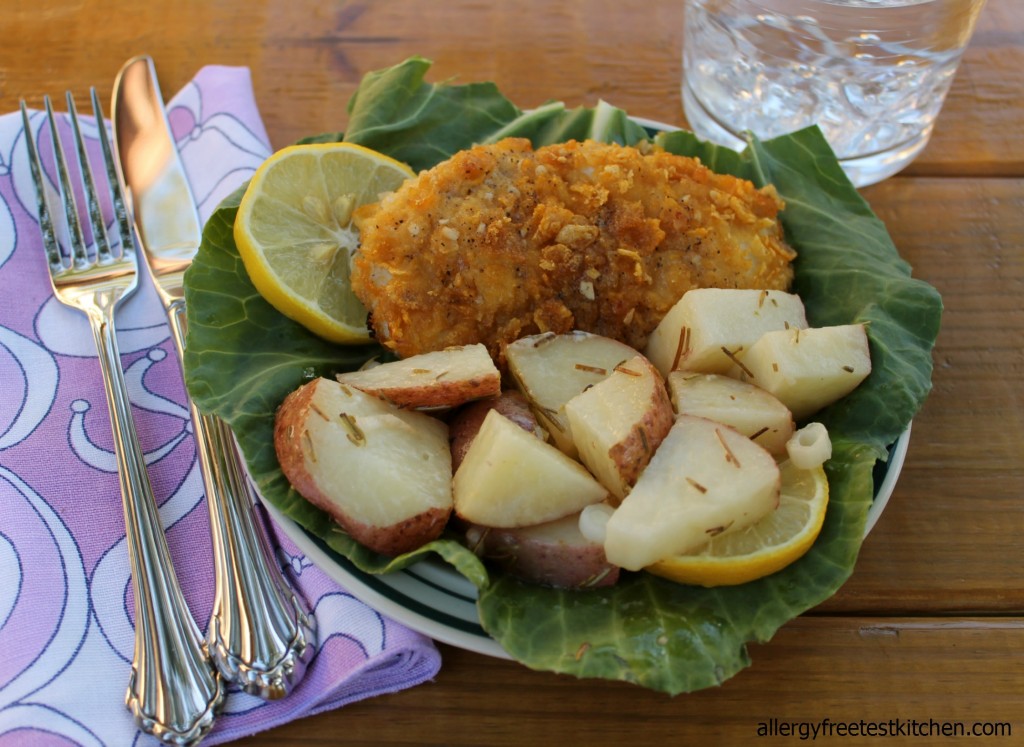 A simple substitution of corn flakes (check the box to make sure it is gluten free) is the perfect choice to make this dish gluten free.  Pat your chicken breasts dry with a paper towel and you do not need egg to make the corn flakes stick.
Adapted from a hand written recipe card, this easy baked lemon chicken dish can become a family favorite.
Also shared at Allergy Free Wednesday and Gluten Free Wednesday.

Baked Lemon Chicken
Ingredients:
2 T. dairy and soy free margarine, melted

2 T. lemon juice

1/2 tsp. minced garlic

1/4 tsp. pepper

1/4 tsp. salt

2 cups corn flakes crushed (make sure they are completely gluten free)

4 boneless, skinless chicken breasts
Directions:
Preheat oven to 350 degrees.

In a shallow dish, combine the melted margarine, lemon juice, garlic, pepper and salt.

Place the crushed corn flakes in another shallow dish.

Pat dry each chicken breast with a paper towel.

Dip chicken breasts in liquid mixture and then dip in corn flakes and cover both sides with the crushed corn flakes.

Place in a glass 9×13 pan that has been sprayed with cooking spray.

Bake uncovered for about 45 minutes or until internal temperature reaches 170-180 degrees.