First getting diagnosed with food allergies or hearing about your child's food allergies, can be daunting.  One of the first thoughts is that you cannot eat anything!  Then you think you can eat, but it will have to be boring.  Then you realize you can have some replacement foods, but that you will have to spend an arm and a leg.  And then, if you are not much of a cook or do not like to read cookbooks, you will be daunted all over again, just thinking about all the "work" you will have to do, just to eat.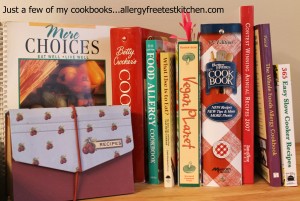 Well, that is where I come in.  One of the reasons I started this blog was to help people know what to eat.  Many blogs focus on just snacks, baked goods or breakfast items, but not actual meals.  Unfortunately, I do not have to time to photograph and blog about everything I make every day.  And honestly, some foods taste wonderful, but do not photograph well.
Therefore, I will be starting "what is for dinner" threads on Allergy Free Test Kitchen's Facebook page.  I will be writing a brief message about what I am cooking that day and give hints as to where you could maybe find a similar recipe.  
So, this is why you need to "like" Allergy Free Test Kitchen's Facebook page.  You do not want to miss out on the free dinner ideas. 
Plus, I would like to invite you to add your dinner plans for the day on the Facebook page.  They do not have to be completely allergy free to share your meal idea.  So chime in and let's discuss! The more ideas the better!
I will still be offering great ideas and photographs on this blog.  I hope to update the blog 3-4 times a week, so please keep following and coming by.  Foods I intend to blog about will not be featured on the Facebook page "what's for dinner" posts until they are posted on the blog.
So, I hope you will "like" the Allergy Free Test Kitchen page and if you have Twitter or Pinterest please be sure to follow me there as well.
And do not forget to vote for me by clicking the badge in the sidebar for the Circle of Moms Allergy Food Blogging Contest.  I appreciate very vote!