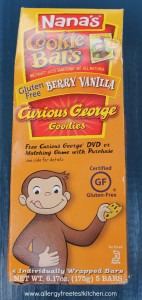 I have a confession to make.  Sometimes I fall for marketing schemes. Please tell me I'm not the only one. And yep, that is what happened to me with this product.  I fell for the cute Curious George monkey on the box.  Maybe the fact that I found it at a TJ Maxx instead of a grocery store should have set off alarm bells, I don't know.  But I do know, that you should just say no. 
I fell not only for the monkey, (I guess I see a little too much of that TV show in my house), but also the idea of individually wrapped bars.  I thought it would be nice to have a pre-made snack for once in a while that I could just throw in my purse.  And it is allergy free, not just gluten free as some store bought snacks are.  Well, this snack is also free of good taste, unless you like dry, tasteless snacks.  I didn't taste any berry or vanilla flavor.  Honestly, I could not even finish one bar.  I don't have picky eaters in my house and I even have one that will eat anything, but they would not eat these bars either.
Now some of you might wonder why I would leave a "bad" review.  Well, it is because I am watching out for you.  Allergy friendly foods are expensive and there is no reason why we should all be wasting our money.  And secondly, I am honest.  If I tell the truth about this product, you will know I am telling the truth about other products or recipes. 
Now, please remember, I am only talking about Nana's Cookie Bars Gluten Free Berry Vanilla variety.  They have other products that may very well taste good (or maybe I just got a bad batch).  I may just have to track one down and try it for myself.