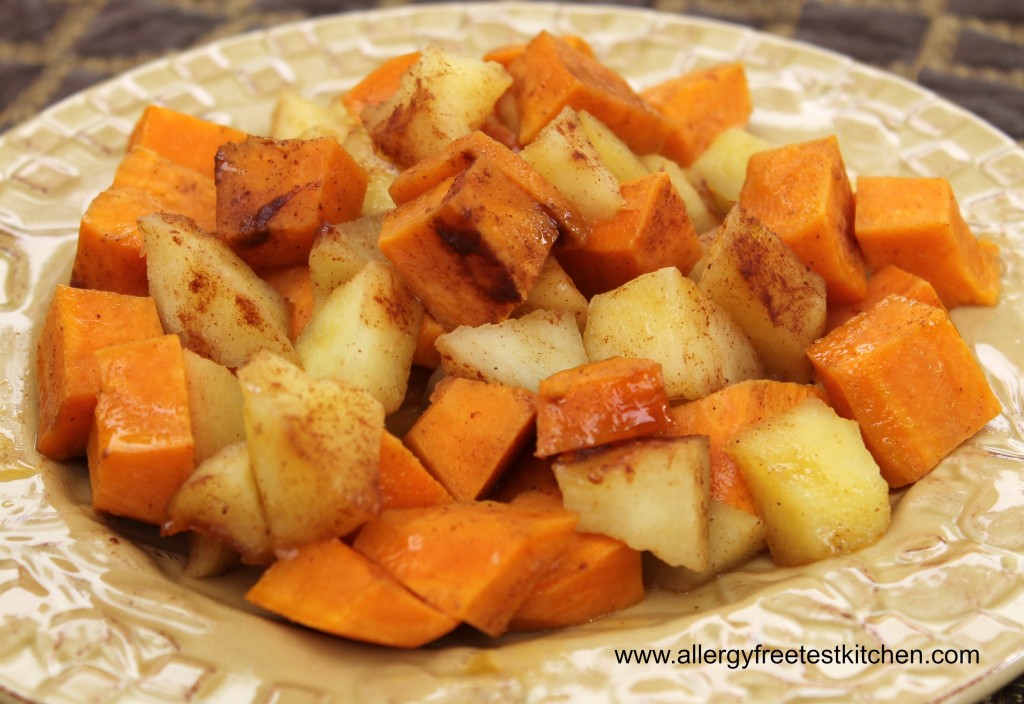 If you are not a fan of sweet potatoes, I think this recipe will change your mind.  And if not, maybe some scientific facts will.  After all, I sometimes find it easier to eat healthy when I know how good the food is for me.  Sweet potatoes are probably under eaten here in America.  I found a statistic that states in 1943 sweet potatoes were consumed 21.7 pounds per capita and in 2007 it was 4.6 pounds per capita.  That is a whole lot of nutrition that is not getting eaten.  Let's get to those nutrition facts, shall we?
Sweet potatoes are very high in Vitamin A, followed by Vitamin C.  They also contain several of the B vitamins, as well as potassium, fiber and tryptophan.  Sweet potatoes are high in antioxidants…the cancer fighters.  They are also a good anti-inflammatory food.  Internal inflammation is a bigger health problem than most people realize.  Sweet potatoes are good blood sugar regulators and in fact may actually improve your body's ability to regulate blood sugar.
And for the gluten free folks who are used to using alternative flours to wheat I found a little interesting tidbit.  In 1918, during WW1, wheat supplies were getting low.  To help combat this problem, sweet potatoes were ground into flour and mixed with wheat to stretch the wheat.
Another tidbit, some sweet potatoes have purple flesh.  I have never seen one of those.
Today's recipe is so easy there is really no excuse for not making it.   A nice blend of sweet potato chunks, apples, cinnamon, and a dash of unrefined sugar, grilled in a foil packet to maximum tenderness, this dish will get eaten by kids and adults alike.
So tell, me have you seen a purple fleshed sweet potato?  What are your favorite ways to prepare sweet potatoes?
This post also shared at Healthy Vegan Fridays, Wellness Weekends, and
Gluten Free Wednesday. Fat Tuesday. Allergy Free Wednesday.

Grilled Sweet Potatoes and Apples
Ingredients:
1-2 sweet potatoes

2-3 apples

ground cinnamon to taste

maple or coconut sugar (or brown sugar) to taste

1/4 to 1/2 cup dairy and soy free margarine (or butter)
Directions:
Peel sweet potatoes and cut into chunks.

Peel apples and cut into slightly larger chunks than the sweet potatoes were cut.

Make sure you have equal parts sweet potatoes and apples.

Place both in large bowl and toss with cinnamon and sugar to taste. It is better to go light and add more later if needed.

Spray heavy duty aluminum foil with cooking spray and place the contents of the bowl on the foil.

Top with your margarine or butter of choice by making little "pats" of "butter" and placing them over the food.

Seal the aluminum foil.

Place on grill for about 25-30 minutes until desired tenderness.