Pasta, pasta, pasta.  It seems like everyone loves pasta.  And being gluten free doesn't mean you have to give up pasta.  I do not have to be gluten free, but I like to limit my wheat intake.   And I like to vary my diet.  I personally think too many people consume too much of the same foods over and over.  Switching out your regular pasta for gluten free pasta would be an easy way to consume less wheat and it would be the more affordable way to do so. (More affordable than say baking gluten free treats).
So, take a look at the picture below.  Can you tell which one(s) are regular wheat pasta and which one(s) are gluten free?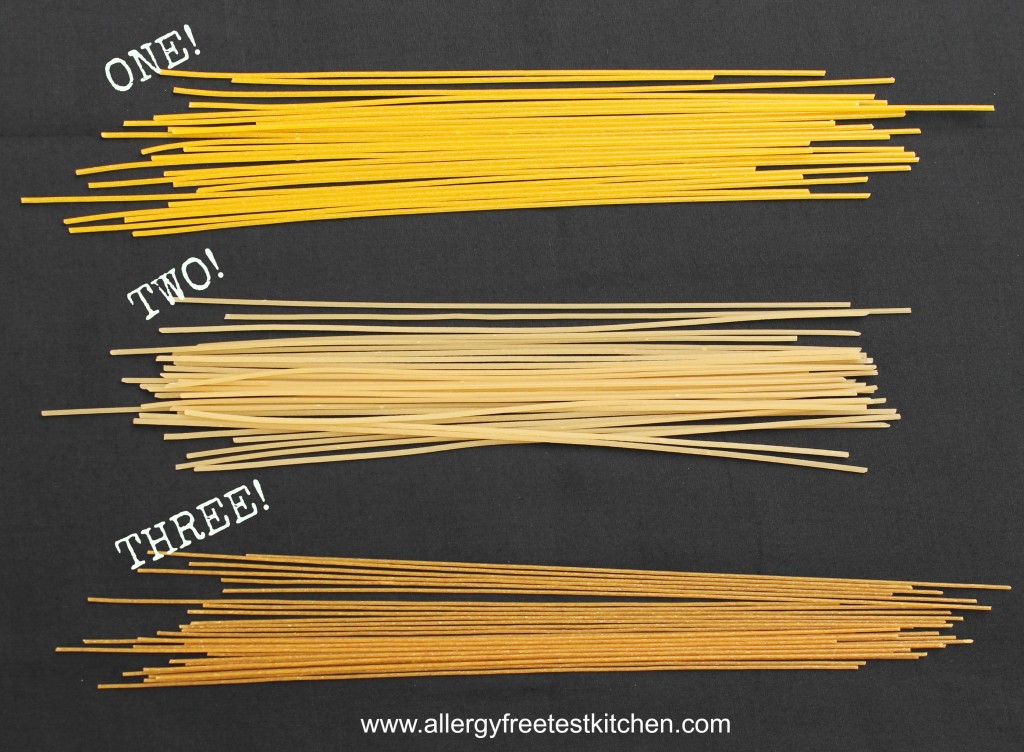 I bet you cannot really tell, unless you are already very familiar with gluten free pastas.  Number one is corn pasta. Number two is brown rice pasta and number three is whole wheat pasta. 
Now, check this picture, and ask yourself which ones you think are gluten free or wheat.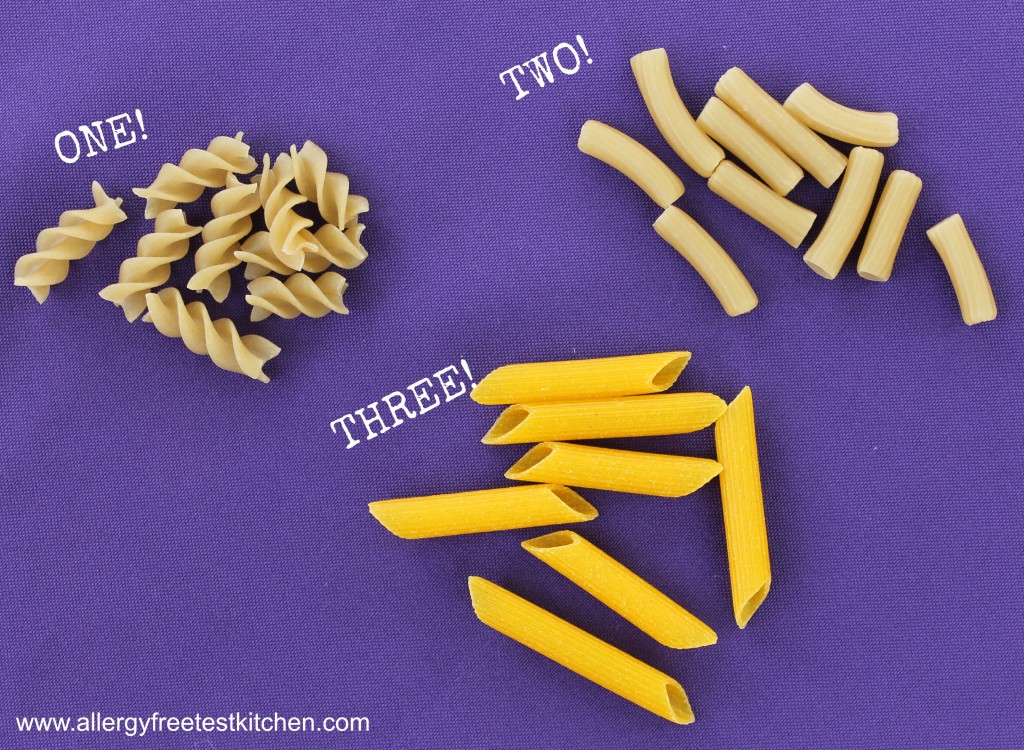 Did I trick you?  Not one of these pastas is "regular" pasta.  Number one is brown rice rotini, while number two is brown rice penne noodles and number three is corn penne pasta. 
They all look like regular!  At least to me they do!  I found that amazing when I first starting cooking gluten free.  I am not sure what I thought they would be like, but I didn't expect "regular."
Now when it comes to cooking gluten free pastas, they are not as forgiving as wheat pasta.  Always read the package for cooking times.  I have found that different brands and different varieties call for different cooking times.  Another thing to keep in mind when cooking gluten free pasta is to start with the shortest cooking time.  If the package says to cook for 7-9 minutes, always start with 7 minutes and then check the pasta for your desired tenderness.   Then check every 30 seconds or so.  I find that gluten free pastas can go from too hard to too soggy quickly.
While I have brown rice pasta and corn pasta shown here in the pictures, there is also quinoa pasta available or a quinoa/corn blend pasta.  I find that I really only need the brown rice pasta or the corn pasta for my needs and they are more affordable than the quinoa pasta.
When it comes to brands of gluten free pastas, I personally think it doesn't matter at all.  I buy my gluten free pastas at Trader Joe's because they are at the best price range for my region.  If you do not have a Trader Joe's where you live, Whole Foods is actually more affordable then the regular supermarkets that are now starting to carry more gluten free products.  And there are always online vendors.  It may seem weird to buy food online, but that can be a real affordable way to shop.
You may be wondering when to use which kind of pasta.  Well, I use the brown rice pasta for things like pasta salad that would have an Italian dressing.  Brown rice pasta is very neutral tasting and almost bland.  It almost "takes on" the other flavors of the dish.  I use corn pasta for dishes like spaghetti where the more distinct taste of the pasta can be "covered" up by the marinara sauce.  I do think the corn pasta holds it shape a little better than brown rice if that is important to you.
So, I would like to know….which gluten free pasta is your favorite?  Are you partial to a brand?
Also shared at Gluten Free Fridays and Gluten Free Monday.