Autumn is in the air today where I live.  A clear sky, cool temps, and a light breeze require a sweatshirt.  But after the horribly hot summer this weather is very much welcome.  And did you know that today also marks the first day of autumn on the calendar?  And what comes to mind when thinking about food at this time of year?  Soups and stews.  Be ready.  I love cooking stews and soups.  You will probably be seeing a few here.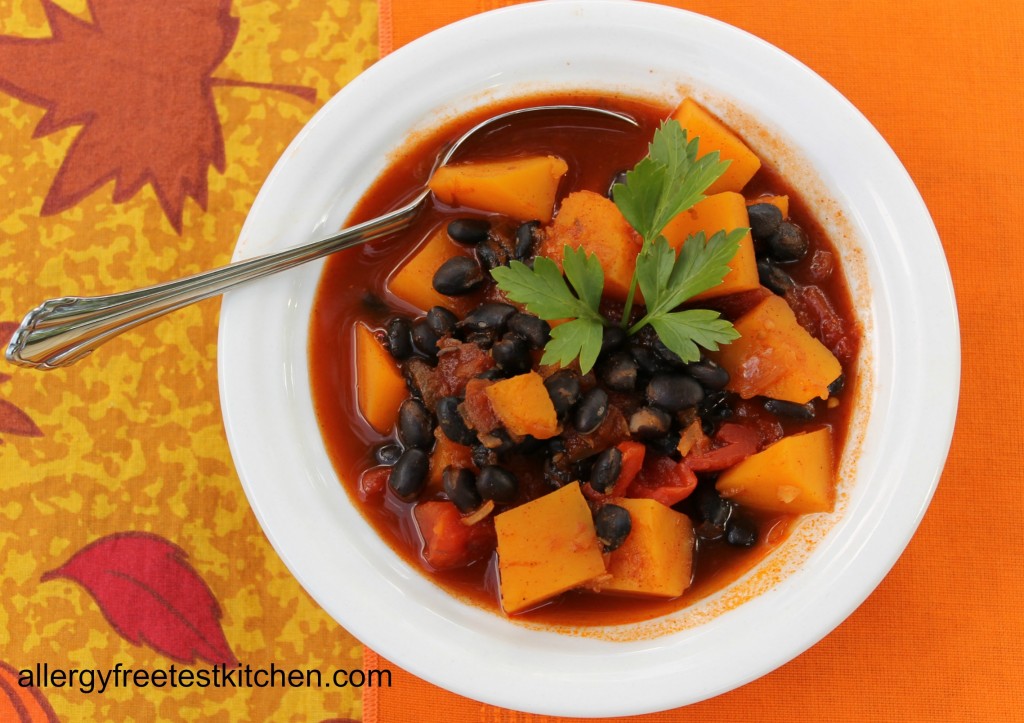 As I mentioned in an earlier post,  I try to make a meatless meal once or twice a week.  And the soup/chili I bring you today falls into that category. Since it looks black and orange, I was thinking of waiting to post it until mid to late October for a real harvest feel.  But my food blogger friend, Cindy, at Vegetarian Mamma was looking for a black bean chili recipe.  I met Cindy at the Nourished Food Blogger Conference in Chicago in April.  She has been a great help to me.
Soups are great for the food allergic person.  A lot of the soups are naturally gluten free, dairy free, egg free and soy free.  And I haven't come across soups with tree nuts or peanuts in them.    The one thing you need to be careful of is your broth base.  When I was first diagnosed with a milk allergy I was shocked to find out that my chicken broth had milk in it.  And some broth bases have wheat it in them.  So be very careful when reading the labels of your broth.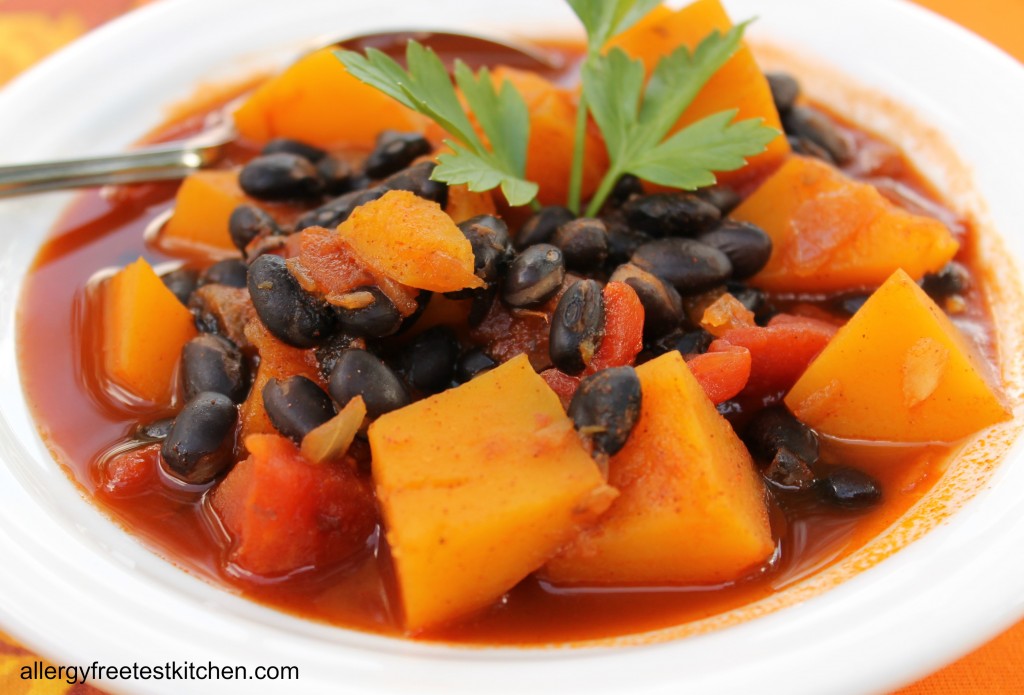 And soups are great for the person who is not food allergic too.  Soups are a great one dish meal with your protein and vegetables all in one pot.  Soups are filling and fairly easy to put together.
I adapted today's recipe from Vegan Planet by Robin Robertson.  And for you meat lovers out there, do not fret.  I will be posting soups and stews chuck full of animal protein as well.
Also posted at My Meatless Mondays, Make Your Own Monday, and Slightly Indulgent Tuesday, and Real Food Wednesday. Allergy Free Wednesday.

Black Bean and Squash Chili
Ingredients:
1 T. olive oil

1 medium onion, chopped

1 garlic clove, minced

1 14.5 oz. can diced tomatoes

1 cup water

1 cup apple juice

1/4 cup tomato paste

4 tsp. chili powder

1 tsp. salt

4 1/2 cups, chopped into cubes, butternut squash

2 15 oz. cans black beans, drained, soaked and rinsed
Directions:
Heat olive oil over medium heat. Add onion and garlic and saute until softened.

Add tomatoes, water, apple juice, tomata paste, chili powder, salt, and squash. Stir to combine.

Bring to boil, and then reduce heat to low.

Cover and simmer until squash is tender, about 30 minutes

Add black beans. Simmer uncovered for about 15 minutes.