Dairy free frozen treats are expensive.  Add in the soy free factor and the price goes up even a little more.  I can count the number of times on one hand I purchased ready-made frozen treats, even though I left dairy behind two years ago.
Making homemade popsicles is super easy and inexpensive.  It is worth it to go out and buy popsicle molds, even for people who are not on an allergy free diet.  Make sure you buy BPA free molds.  BPA stands for Bisphenol A, a chemical found in most plastics.  While the "final" jury is still out, many believe that BPA can seep into your food and cause health problems.  It has been noted that it can cause neural and behavior problems in infants, children and pre-born babies as well as prostrate problems in men and may cause cancer and infertility.  So yeah…chip in an extra few dollars for the BPA free kind.  I found some cute ones that look like crayons.  That makes popsicles even more fun for children.  However, for this picture I used Dixie cups.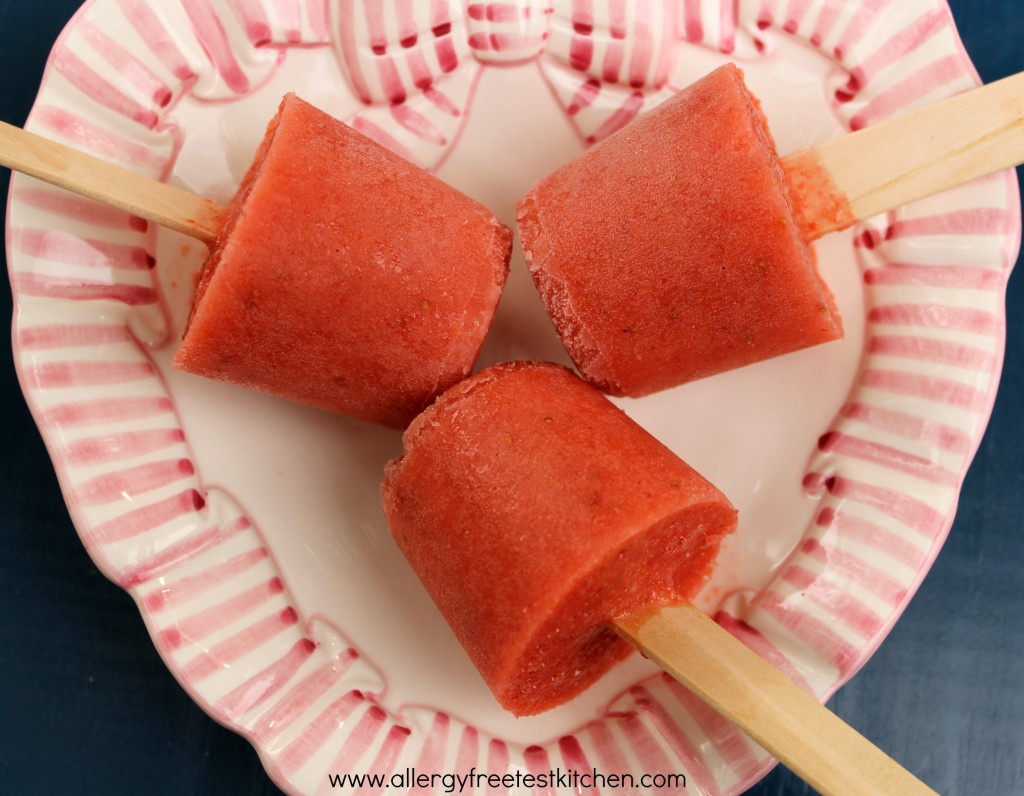 Homemade popsicles are way healthier than the store bought kind too.  You can control the amount of sugar or go sugar free.  They will be free of food dye and other unpronounceable ingredients.  You can even hide vegetables in them.  I am not a big fan of hiding vegetables to get kids to eat them.  I think that teaches them that vegetables are "bad" and need to be "disguised."  But I also think that children and adults could all use a little more vegetables in their diet.  After all, adults like popsicles too! These are all good reasons for anyone, regardless of food allergies, to make their own popsicles.
I developed this recipe and found the right combo on the first try. I call these Strawberry Surprise Popsicles because "surprise" they have carrots in them and are free of refined sugar (i.e. granulated white sugar).  Now for those of you who use milk, you can try and replace the 1 ½ cups vanilla coconut milk with 1 ½ cups cow's milk.  Maybe add a splash of vanilla extract…starting with a small amount, taste and add more as needed. However, I have never made these with cow's milk so I can't guarantee they will taste as good as mine.
I promise no one will know these have carrots in them.  So, tell me by leaving a comment, do you make your own popsicles?  Do you think you will start?
Also shared at Naturally Sweet Tuesday. Gluten Free & DIY Tuesday. Allergy Free Wednesday. Real Food Wednesday.

Strawberry Surprise Popsicles
Ingredients:
16 oz. frozen strawberries

3/4 cup shredded carrots

1 1/2 cups vanilla flavored coconut milk

3/4 cup honey (or agave)
Directions:
Thaw berries.

Place berries, shredded carrots, vanilla flavored coconut milk and honey in blender.

Blend until smooth.

Pour into popsicle molds, seal, and freeze until hard.