Summer is coming to a close and strawberry season is almost over, but today I bring you a strawberry pie recipe nonetheless.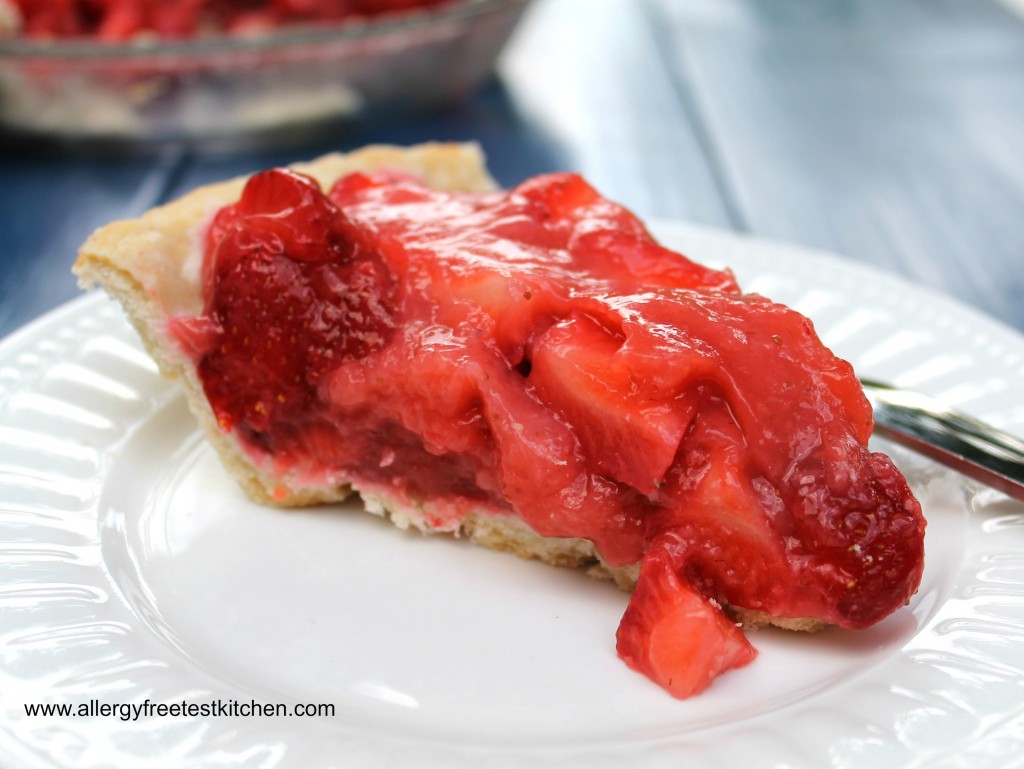 Growing up, my mom made a delicious whipped strawberry pie. It was light pink, fluffy and airy.  I can still taste that pie in my memory, but with all the eggs in that recipe I had to say goodbye.   I came upon today's strawberry pie recipe almost on a fluke.  When I was first diagnosed with severe milk and egg allergies, a friend of mine gave me a vegan cookbook to flip through for ideas.  She had bought it from someone going door to door and never really looked at it.  The intent was for me to find one or two recipes to get me started and I would copy them down.  But after looking at the cookbook I realized I wanted my own copy of it.  So off to eBay to look and low and behold there it was for 99 cents, plus shipping.  I got the brand new cookbook for under $5.  How's that for a deal?
But I digress.  This pie is simple, easy and just what one looks for in a strawberry pie..the perfect blend of strawberries, sweetness and flaky crust.
The recipe is adapted from More Choices Eat Well Live Well by Cheryl D. Thomas-Peters, RD.  The pie is naturally allergy free as long as you use a gluten free pie crust if you need that.  The pie in the above picture is taken with a gluten free pie crust.
Also shared at Allergy Friendly Mother's Day, Mostly Homemade Mondays. Allergy Free Wednesday.

Glazed Strawberry Pie
Ingredients:
1 nine-inch gluten free or whole wheat pie crust

6 cups fresh strawberries

1 cup water

2 T. cornstarch

2 T. cool water

1/4 cup sugar
Directions:
Bake your pie crust according to the recipe you are using.

Place 1 cup of strawberries and 1 cup water in blender. Cover and blend until mixture is smooth.

Transfer to a saucepan, bring to a boil, and simmer 2 minutes.

In a separate bowl, whisk together the cornstarch and 2 T. water until cornstarch is dissolved. Add the sugar and mix well. Stir into strawberry mixture.

Cook and stir over medium heat until mixture is thick and bubbly. Cook and stir 2 minutes more. Remove from heat and cool to room temperature.

Once the mixture is cooled, fold in remaining strawberries and pour into baked pie shell.

Cover and chill at least 4 hours.