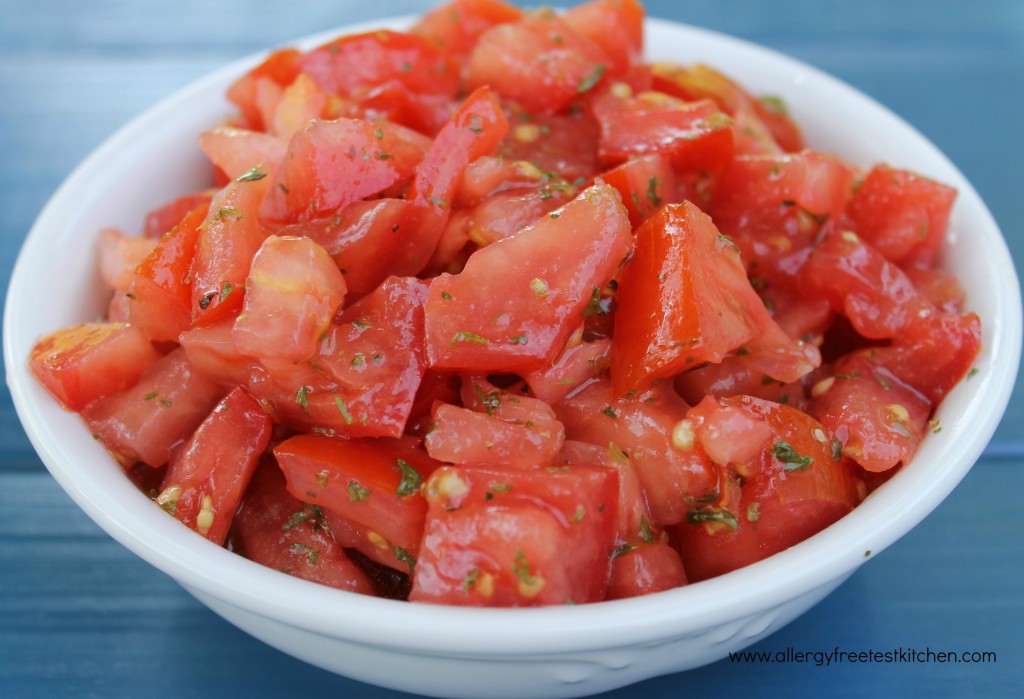 Tomatos or tomatoes. However you spell it, it seems like people either love them or hate them.  I fall into the category of loving tomatoes.  And while they are technically a fruit, they are often classified as a vegetable.  I use them often and in a wide variety of ways.  As you follow this blog you will find this to be true.
Tomatoes are worth liking to me.  They are chuck full of  vitamin C, A and dietary fiber.  Lycopene is also found in tomatoes which has been shown to be particularly good for men's health.
This is the time of year when fresh tomatoes are in season and can easily be found grown locally.  Maybe you grow them yourself.  So if you have a plethora of tomatoes on hand, or you just want a different salad idea to go with your meal, this simple tomato recipe is for you.  And it just so happens to be allergy free.  I found this recipe in my Taste of Home's Contest Winning Annual Recipes 2007  cookbook and adapted it slightly.
Also shared at Gluten Free Friday . Fat Tuesday. Gluten Free & DIY Tuesday.

Fresh Tomato Salad
Ingredients:
2 large tomatos, chopped

1/4 cup olive oil

2 T. white vinegar

1 1/2 T. dried parsley flakes

1 tsp. dried oregano

1/8 tsp. dried chives

1/2 tsp. salt

1/2 tsp. sugar
Directions:
Place chopped tomatos in a bow.

In a container with a lid, add the rest of the ingredients and shake well.

Pour over tomatos. Cover and chill until ready to eat.