When I first gave up dairy products, I thought I was giving up all things creamy or saucy.  It turns out that doesn't have to be true.  But truthfully, after being dairy free for a while, one sort of loses that "desire" to have something creamy.
Chicken a la King is an easy recipe that is easily adapted to be allergy free and it so happens it will give you that creamy consistency.
Chicken a la King is known as a one dish meal consisting of chicken, mushrooms, pimentos and pepper served over rice or toast.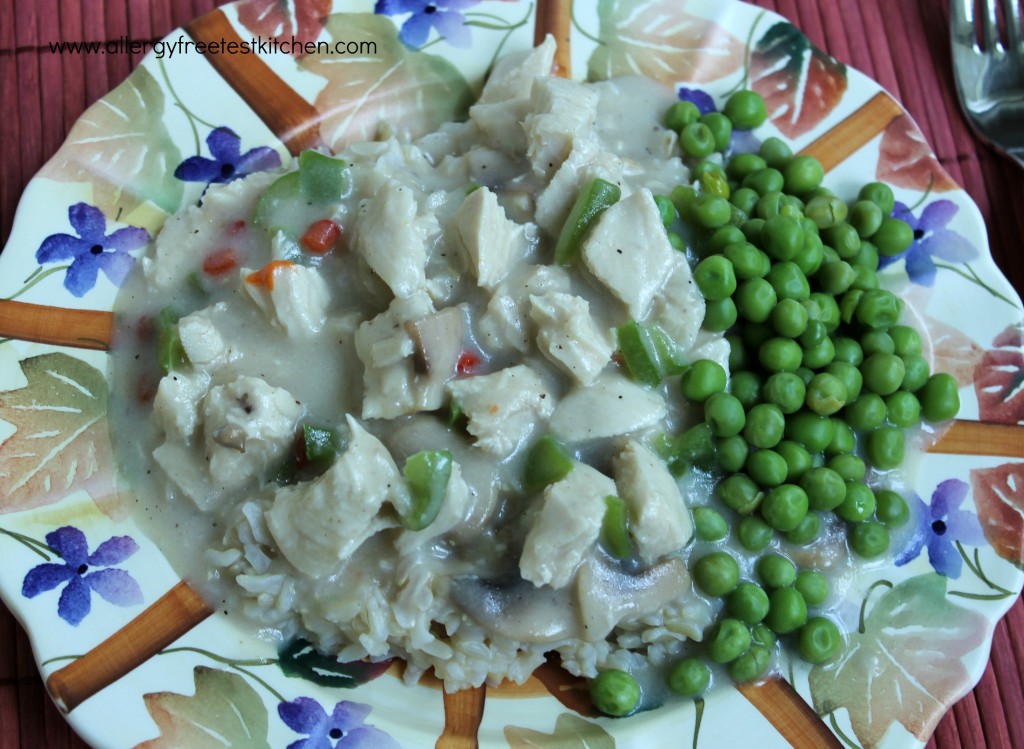 But I wanted to know why it was called "a la King."  What makes it "kingly" I wondered? So I went to the ever handy internet and found 6 possible origins on foodreference.com.  Here is a condensed version.
 Either a Mr. or Mrs. Foxhall Keene suggested this dish to a chef at a New York City restaurant in 1881 and it was named "Chicken a la Keene."
The chef at a hotel in London created the dish in 1881 for a sportsman named J.R. Keene, the father of the above mentioned Mr. Keene.
Or a variation of #2, is that the chef of the hotel in London named the dish after his (the chef's) father J.R. King.
Chicken a la King may have been developed at the Waldorf Astoria in NYC in the early 20th century.
An American created this recipe in the 1920's on Long Island, NY or in Miami, FL.
The mostly likely source (according to foodreference.com) is that the dish was created in 1898 or the early 1900's by Chef George Greenwald at the Brighten Beach Hotel in NY for the hotel owners Mr. and Mrs. E. Clark King II.  Either Mr. King loved the dish and wanted it on the menu or the Chef asked if he could put it on the menu.  Either way, it was added to the menu for $1.25 and quickly became a success.
No matter what version is truth, it seems to be original as of the late 1800's.  Here in 2012 I have adapted it to be free of gluten, milk, and soy (it is naturally allergy free of the other allergens).  Hemp milk or rice milk can be used in the recipe, but I prefer hemp milk.  It is thicker than rice milk and makes the dish creamy as if using cow's milk rather than using rice milk. The recipe I'm adapting from is found in Betty Crocker's Cookbook.  But for those of you not on an allergy free diet, you can simply add in the ingredients you can tolerate.
Also shared at Allergy Free Wednesday.

Chicken a la King
Ingredients:
1/2 cup dairy free/soy free margarine (or butter)

1/2 cup chopped green pepper

1 cup sliced fresh mushrooms

1/2 cup brown rice flour (or whole wheat flour)

1/2 tsp. salt

1/4 tsp. pepper

1 1/2 cups hemp or rice milk (or cow's milk)

1 1/4 cups chicken broth

2 cups cut-up, cooked chicken

2 T. pimentos

3 cups cooked brown rice
Directions:
Melt the margarine (or butter) over medium high heat. Cook bell pepper and mushrooms in melted margarine until bell pepper is crisp-tender.

Stir in brown rice flour (or whole wheat flour), salt and pepper and stir until bubbly.

Remove from heat.

Stir in hemp or rice milk (or cow's milk) and broth. Heat to boiling, stirring constantly. Boil and stir for 1 minute.

Stir in chicken and pimentos. Cook until hot.

Serve over rice.